Labor Day weekend means AppleFest at Jackson's. Sweet, crisp fall apples and everything that goes with them are the highlight of the day. That means Fresh Apple Cider, Cider Slushes, Fried Pies, Caramel Apples plus Peach Ice Cream and lots more! Plenty of children's activities too.
2023 AppleFest – Labor Day Weekend | Saturday, September 2 – Monday, September 4
Saturday through Monday, sweet, crisp fall apples and everything that goes with them are the highlight of the day. Not only are we picking some of your favorite fall apples . . . Jonathan, Golden Delicious, Gala & Fuji but we will be giving you free tastes of many of our other apple products like our butters, sauces, salsas and more!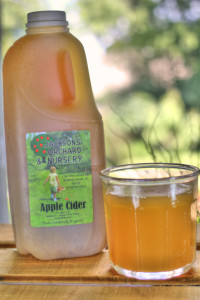 We'll be making our first batch of new season Apple Cider. Fresh squeezed & fresh made . . . how can you resist! Another first of the season is caramel apples. We'll be dipping and serving them in the concession stand starting this weekend. But there is plenty more like fried apple & peach pies, cider slushes, ice cream and more.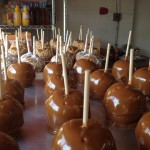 Also the playground is open ($3 ages 4-21) and the goats and other animals can't wait to see you!
If the weather cooperates we normally try to have a special weekend of Pick-Your-Own apples priced by the pound or by the peck.
We begin our regular fall hours this weekend. Sat 9-5, Sun 1-5 & Mon 9-5. As with all of our events there are no reservations, admission fees or parking fees. We hope you can join us!
Highlights for the 2023 Season
Pick-Your-Own Apples ($18/peck or $2/pound)
The Apple Barn is open
Concessions are open
Playground is open ($3 ages 4-21)
Samples of favorite Apple Products
Groovy Gus Donut Bus (Sunday & Monday)
Kentucky State University Kids Crafts
Animals are available on the playground to pet and feed (the petting zoo & pony rides begin during the Pumpkin Festival)
AppleFest FAQs:
Can we use your little wagons? Yes, we have a limited amount of wagons but we recommend bringing your own wagon or stroller to insure one is available for you.
Do I need reservations? Is there an admission fee or parking fee? No, no reservations are required. There is no admission or parking fee
Concessions offers online ordering. It is usually quicker and easier to order ahead and then come to the pick up window during festival weekends:  Use this link to view concession stand pricing